Exploring Science has been written specifically for the new Junior Cycle by a team of experienced teachers and authors, who are specialists in their subject areas. It comprehensively covers the new Science Specification and the Framework for Junior Cycle.
Student Textbook
Focuses on the development of students' knowledge and enjoyment of Science, referencing the Nature of Science strand throughout
Divided into the five strands of the new specification: Nature of Science, Biological World, Chemical World, Physical World and Earth and Space
Student-friendly design, layout and language level (SMOG tested)
Comprehensively covers all the Learning Outcomes and Key Skills
The user-friendly layout incorporates:
- Learning Outcomes and Keywords at the start of every chapter
- Well-labelled diagrams
- A wide range of photos and illustrations
- Coloured tabs to identify the five separate strands
Each chapter contains a wide selection of questions
Develops literacy and numeracy by highlighting key words and the interrogation of data
Includes a mix of individual and group work activities to promote active learning
Provides activities that promote research-based enquiry
Provides student-friendly Learning Outcomes
Engages students with scientific issues and ideas to develop scientific literacy
Links to the Statements of Learning as outlined in the Framework for Junior Cycle
Contains a substantial and detailed index
Click on the cover to view some sample pages from the book!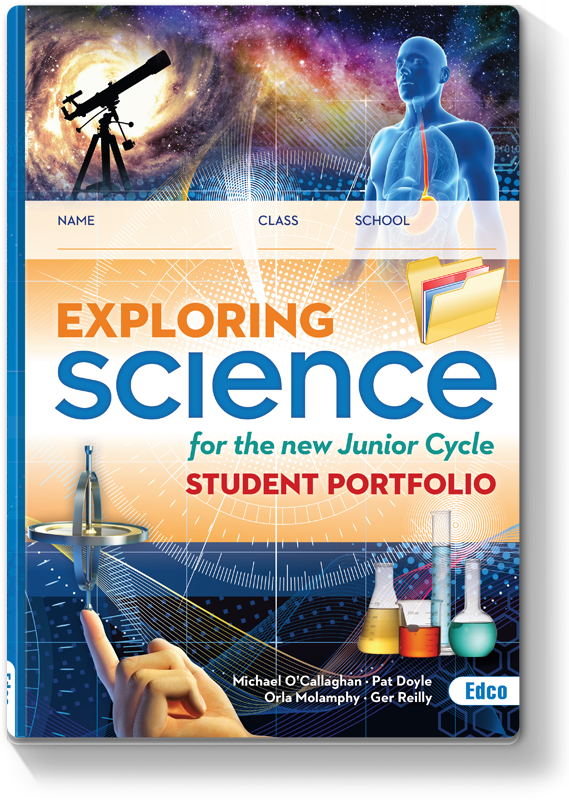 Student Portfolio Book
Free Student Portfolio provides additional material, questions and activities to complement textbook content
Enables students to record and monitor their progress with self-assessment checklists
Provides peer-assessment guides and tasks for each strand
Features mind maps, key facts and key words
Glossary of Terms Booklet
A comprehensive Glossary of Terms cross-referenced to the Textbook and Student Portfolio Book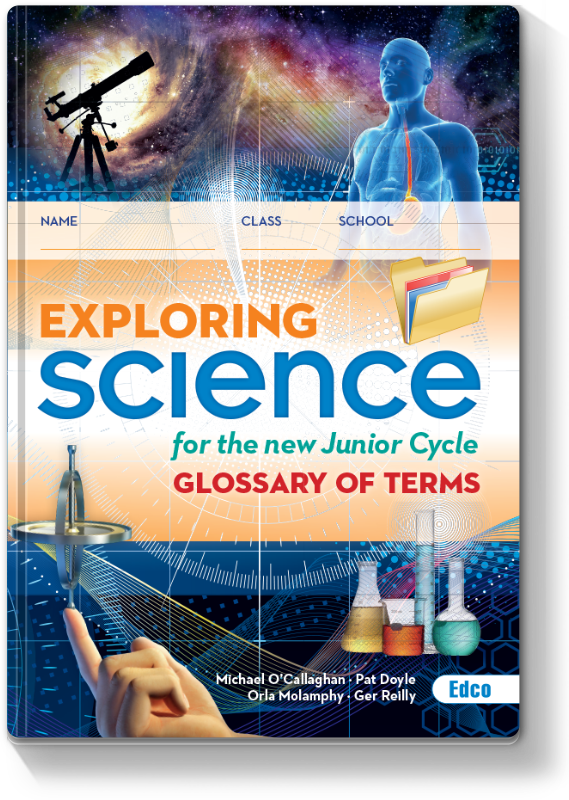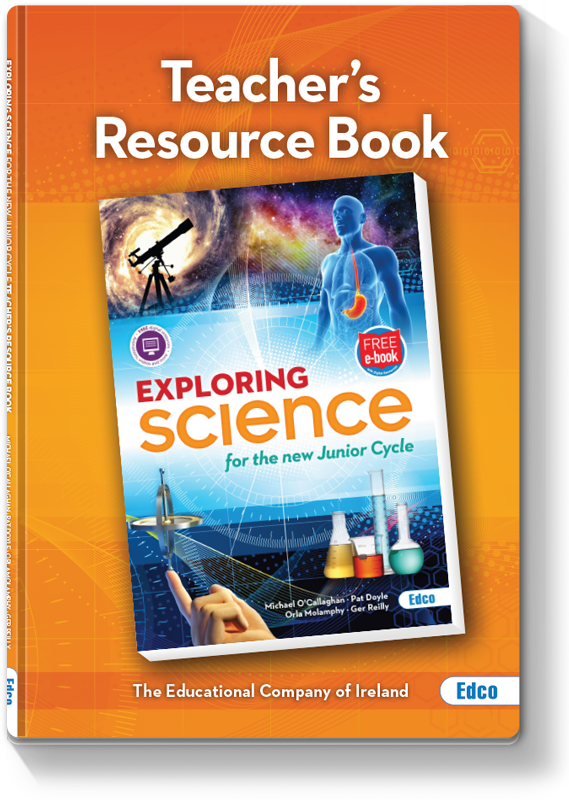 Teacher's Resource Book
Provides teachers with an introduction to key changes in the new Junior Cycle for Science, including Statements of Learning, Key Skills and literacy and numeracy
Contains guidelines on teaching Science for the new Junior Cycle
Includes solutions to all portfolio and textbook questions
Provides peer assessment photocopiables
Features additional student activities, suggested websites and famous scientists for every chapter
Digital resources outlined by chapter
Comprehensive glossary cross-referenced to the Textbook and Student Portfolio Book

Suggested yearly teaching plans

A Teacher's CD-ROM containing a range of resources including animated
diagrams, experiment videos, worksheets, powerpoints and lots more
Digital Resources
Teachers can access the Exploring Science Online Interactive Textbook through
edcolearning.ie, as well as a bank of free digital resources including:
Short, illustrative videos and animated diagrams
Engaging documentary videos and worksheets
A series of experiment videos
Animated scientist biographies, especially created for Exploring Science
Peer and self-assessment PowerPoints
Thematic chapter PowerPoints
Time-saving template documents, including report templates, lab sign-in sheets, experiment templates, features of quality tips and more
'Safety in the Lab' PowerPoint, and IBEC modules
Online glossary
Approved weblinks document
Digital resources are all referenced in both the Student Textbook and the Teacher's Resource Book